Do your customers say: "I love your products but I don't know where to go to buy them"?
Xtreme Locator is a powerful software that enables businesses to provide their customers with an easy way to find their nearest physical location. The software offers various features such as store hours, products, map directions, and date-sensitive special events held at a particular location. Customers can search by zip code, city, or area code to find the closest store.
The benefits of using Xtreme Locator are numerous. First, it helps businesses to improve customer experience by providing a convenient way for customers to locate their stores. This reduces the number of calls to customer service, which can save businesses time and money. Second, it can increase foot traffic to physical stores, which can lead to increased sales. Third, it helps businesses to track customer behavior and preferences, which can inform future marketing efforts.
MULTIPLE SEARCH AND SEARCH RESULTS OPTIONS
Run a Quick Search – Customers enter their local zip code in a your search box to find your nearest store. Each location will be displayed from nearest to farthest.
Run an Advanced Search – Customers can enter any number of location details including; Postal Code, Name, City, State/Province, Country, Special Events and Location Specialties (Services Brands, Products, etc.). Each location will be displayed from nearest to farthest. The visitor can click on any location to see the Location Detail page.
Choose from three different results types.
Text Results with Map-It link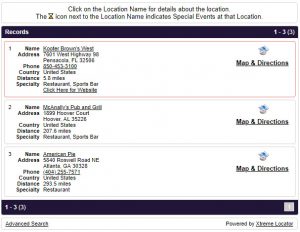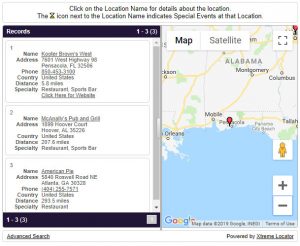 Map only with Popup Window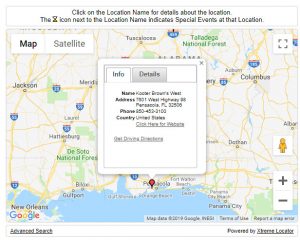 View Location Details – After performing either search, your customer can then choose to view more details about a location by clicking it to view the Location Detail page.
Mapping & Driving Directions – From either the search results page or the location detail page, your customer can click the Map-It icon to view a printable map and driving directions.
XTREME LOCATOR SOFTWARE IS FULLY CUSTOMIZABLE
One of the key benefits of Xtreme Locator is its flexibility and customizability. Businesses can easily match the software's look and feel to their website by uploading company and location logo images, defining page colors, setting display width, and defining fonts. Additionally, businesses can upload audio messages for each location to provide a more personalized experience for customers.
MANAGE YOUR XTREME LOCATOR FROM ANYWHERE
Access our Administrative Control Panel from any Web Browser allowing easy management of your entire Xtreme Locator application. Features include:
Location Manager – The management module used to add and edit individual dealer location records.
Custom Fields – Create an unlimited number of custom fields to add products, location types, etc.
Location Administrators – Provide credentials for additional administrators to login to manage assigned locations. Use this feature to allow regional managers to make modifications to only their assigned locations or to allow individual location owners to update their information!
Statistics Reporting – Provides you with real time reporting showing you the the geographical areas your customers are searching for, providing invaluable marketing tools.
Code Generator – Once you setup all of your locations, generate the code to put Xtreme Locator on your Web Pages with our Code Generator. Deployment choices include HTML, iFrame, Frames, Flash, PHP and ASP.NET.
All Locations Country or Region Map – If you want to display a map of your locations, you can generate the code to place a map of your locations on your Website.
Sales Territory Handling – Assign sales territories to your locations using Zip Codes, Range of Zip Codes, States and/or Countries. Territories override distance search to allow for one regional rep to support multiple regions.
Priority Location Handling – You can designate certain locations to show up first on any search.
Import & Export – Import all of your location data from your dealer database to quickly get up and running. Export this data for easy location review.
LOCATING SERVICES FOR ALL COUNTRIES ON EARTH
Xtreme Locator is a powerful location-based platform that can help you locate any address around the world. With our advanced geocoding technology, we can provide accurate street-level locations in over 25 countries, including the United States, Canada, the United Kingdom, Australia, and more.
For other countries, we offer country and city-level searches, allowing you to easily find businesses, landmarks, and other points of interest. Whether you need to find a specific address for business purposes or simply want to explore a new city, Xtreme Locator has you covered.
Our platform is designed to be easy to use and customizable, so you can tailor it to your specific needs. With our powerful API, you can integrate location-based services into your own applications, making it easier than ever to find the information you need.
So if you're looking for a reliable and accurate location-based platform, look no further than Xtreme Locator. With our extensive coverage and powerful search capabilities, we're the ideal solution for businesses and individuals alike.
IVR TELEPHONE LOCATOR
Here's an example of how you can add the IVR Telephone Locator to your Web Locator:
1. First, publish your locator phone number (provided by Xtreme Locator) to your marketing materials.
2. Once customers call in, they will be prompted to enter or speak their zip code. This will allow the IVR system to identify the location nearest to them.
3. After the location has been identified, the IVR system will provide the customer with directions to the nearest store. Customers can also choose to receive this information via SMS text messaging.
By adding the IVR Telephone Locator to your Web Locator, you'll be providing your customers with an additional way to find your stores that is both convenient and easy to use. This will help increase customer satisfaction and improve overall customer experience.